Publications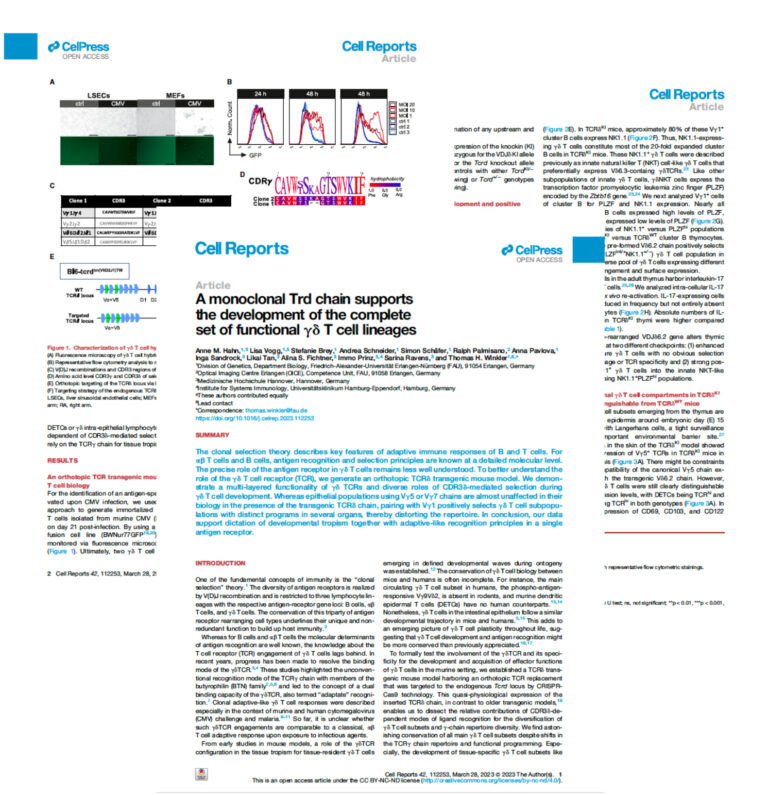 A monoclonal Trd chain supports the development of the complete set of functional γδ T cell lineages
Cell Rep . 2023 Mar 14;42(3):112253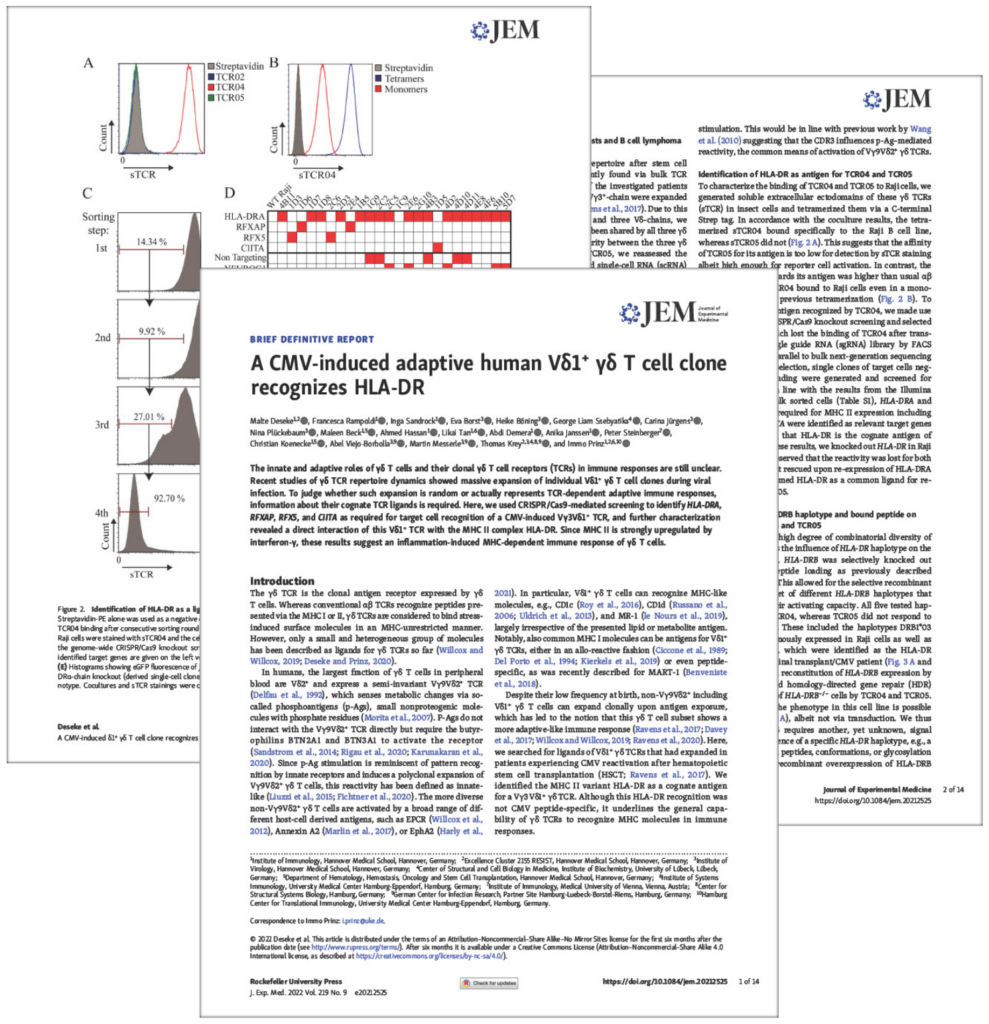 A CMV-induced adaptive human Vδ1+ γδ T cell clone recognizes HLA-DR
The innate and adaptive roles of γδ T cells and their clonal γδ T cell receptors (TCRs) in immune responses are still unclear. Recent studies of γδ TCR repertoire dynamics showed massive expansion of individual Vδ1+ γδ T cell clones during viral infection. To judge whether such expansion is random or actually represents TCR-dependent adaptive immune responses, information about their cognate TCR ligands is required. Here, we used CRISPR/Cas9-mediated screening to identify HLA-DRA, RFXAP, RFX5, and CIITA as required for target cell recognition of a CMV-induced Vγ3Vδ1+ TCR, and further characterization revealed a direct interaction of this Vδ1+ TCR with the MHC II complex HLA-DR. Since MHC II is strongly upregulated by interferon-γ, these results suggest an inflammation-induced MHC-dependent immune response of γδ T cells.
J Exp Med. 2022 Sep 5;219(9):e20212525.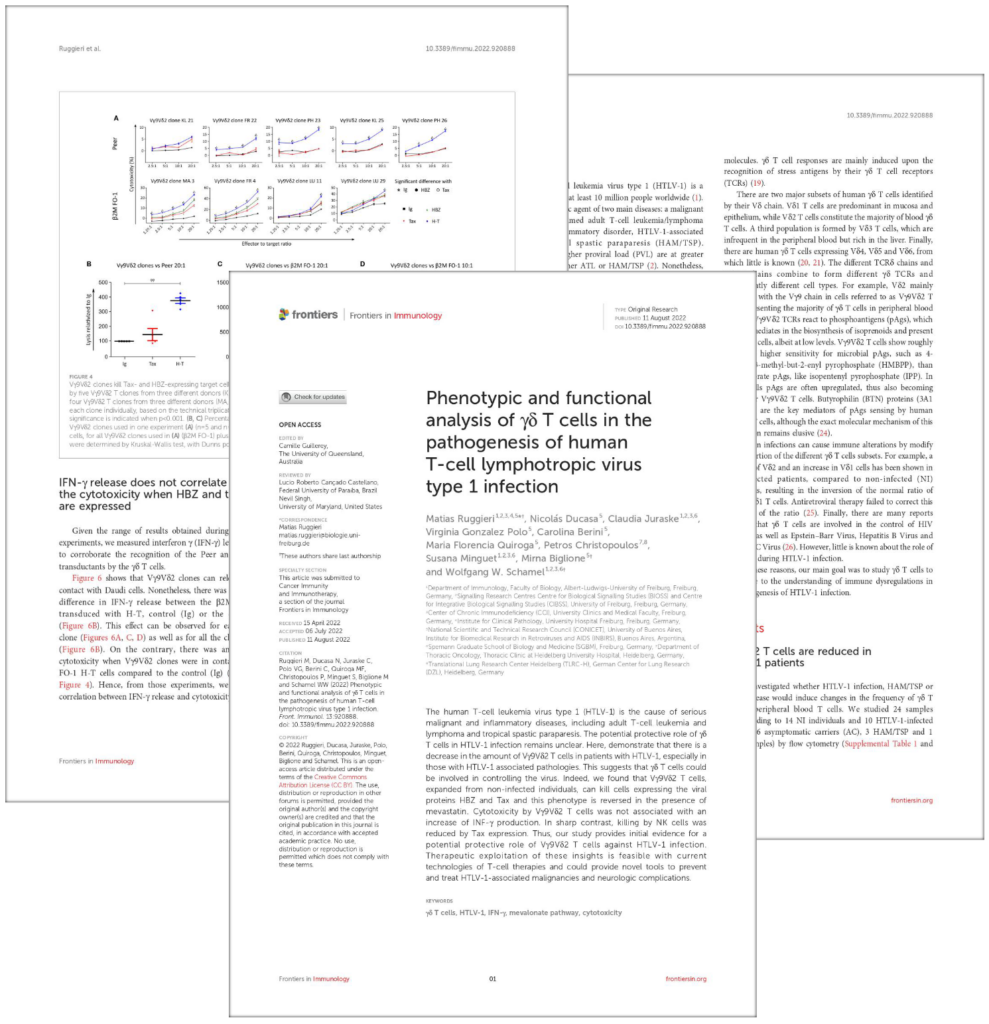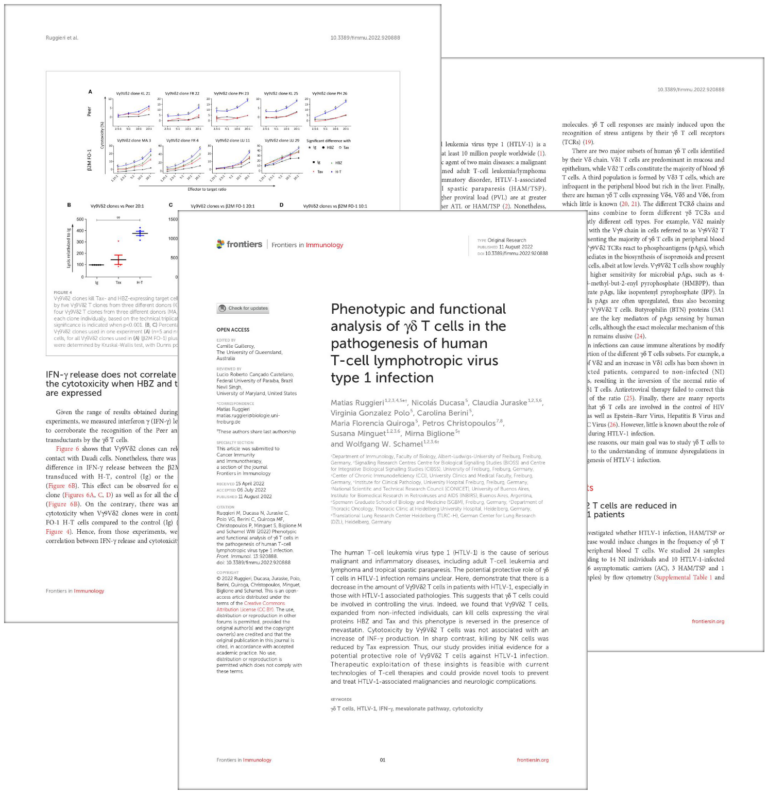 Phenotypic and functional analysis of gd T cells in the pathogenesis of human T-cell lymphotropic virus type 1 infection
The human T-cell leukemia virus type 1 (HTLV-1) is the cause of serious malignant and inflammatory diseases, including adult T-cell leukemia and lymphoma and tropical spastic paraparesis. The potential protective role of γδ T cells in HTLV-1 infection remains unclear. Here, demonstrate that there is a decrease in the amount of Vγ9Vδ2 T cells in patients with HTLV-1, especially in those with HTLV-1 associated pathologies.
Front Immunol. 2022 Aug 11;13:920888.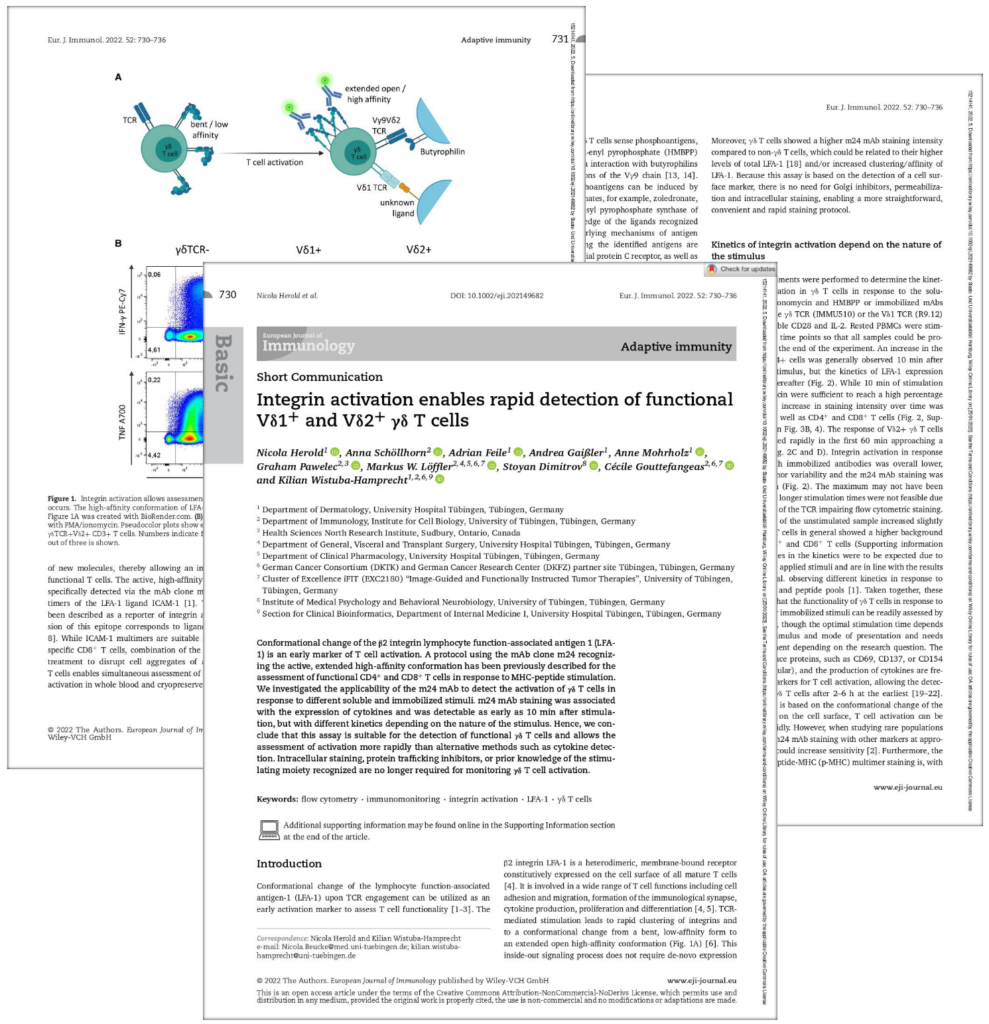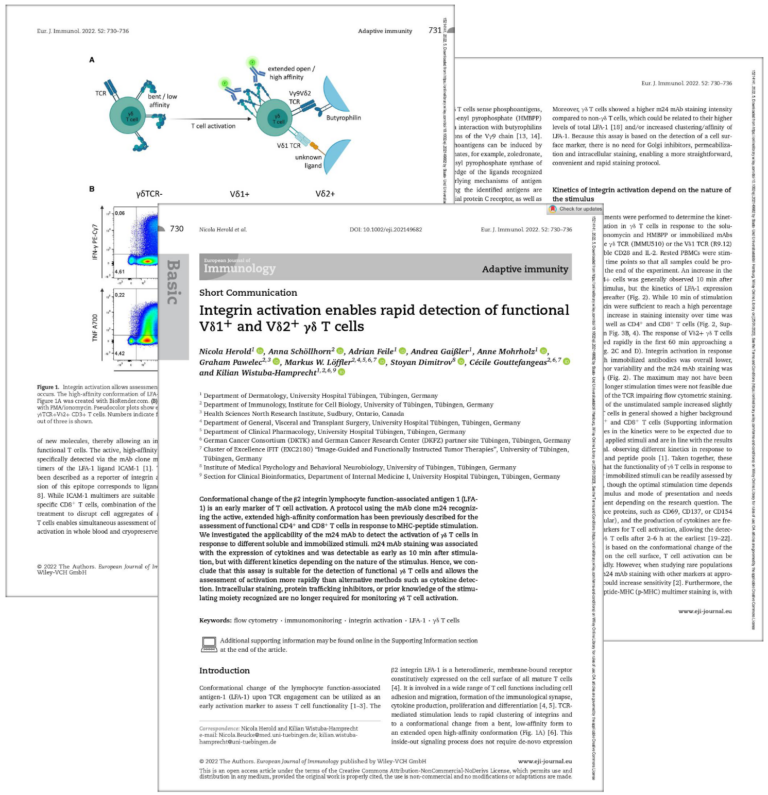 Integrin activation enables rapid detection of functional Vδ1+ and Vδ2+ γδ T cells
Conformational change of the β2 integrin lymphocyte function-associated antigen 1 (LFA-1) is an early marker of T cell activation. A protocol using the mAb clone m24 recognizing the active, extended high-affinity conformation has been previously described for the assessment of functional CD4+ and CD8+ T cells in response to MHC-peptide stimulation. We investigated the applicability of the m24 mAb to detect the activation of γδ T cells in response to different soluble and immobilized stimuli. m24 mAb staining was associated with the expression of cytokines and was detectable as early as 10 min after stimulation, but with different kinetics depending on the nature of the stimulus. Hence, we conclude that this assay is suitable for the detection of functional γδ T cells and allows the assessment of activation more rapidly than alternative methods such as cytokine detection. Intracellular staining, protein trafficking inhibitors, or prior knowledge of the stimulating moiety recognized are no longer required for monitoring γδ T cell activation.
Eur. J. Immunol. 2022 May;52(5):730-736.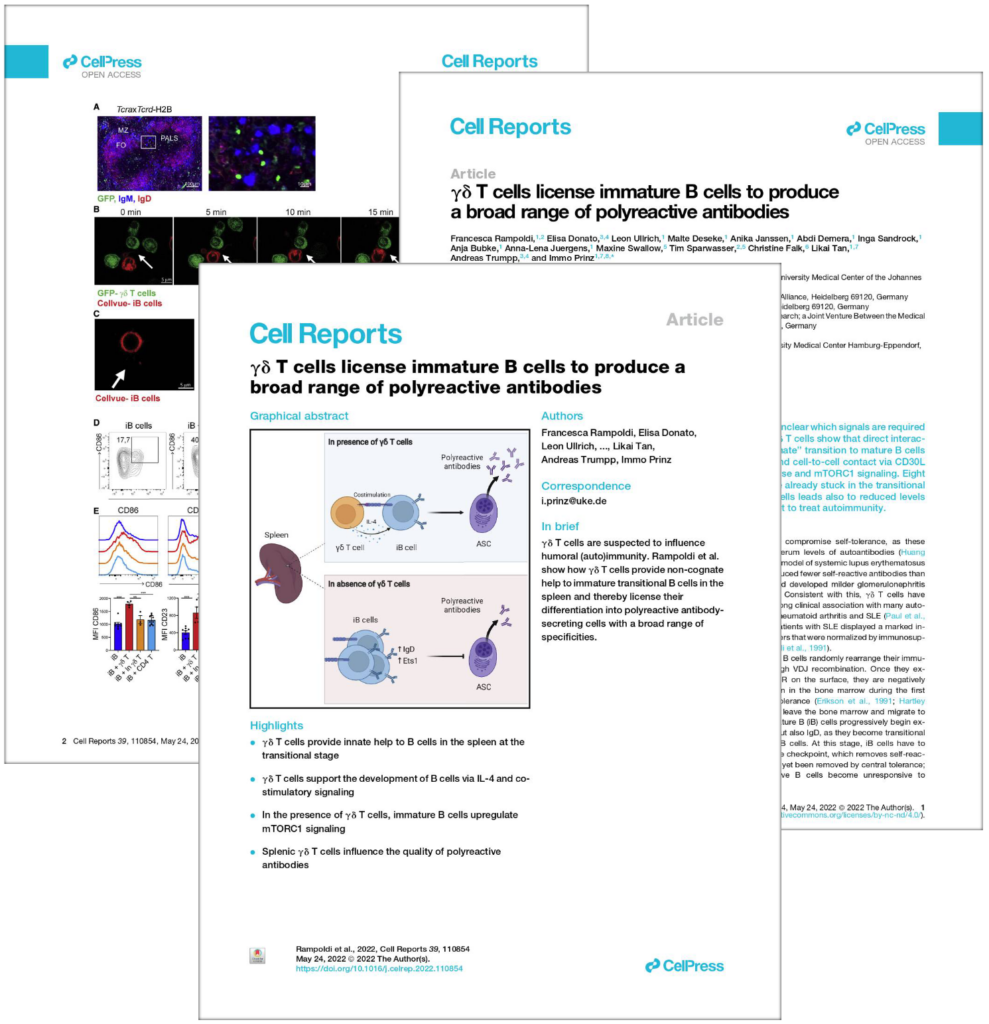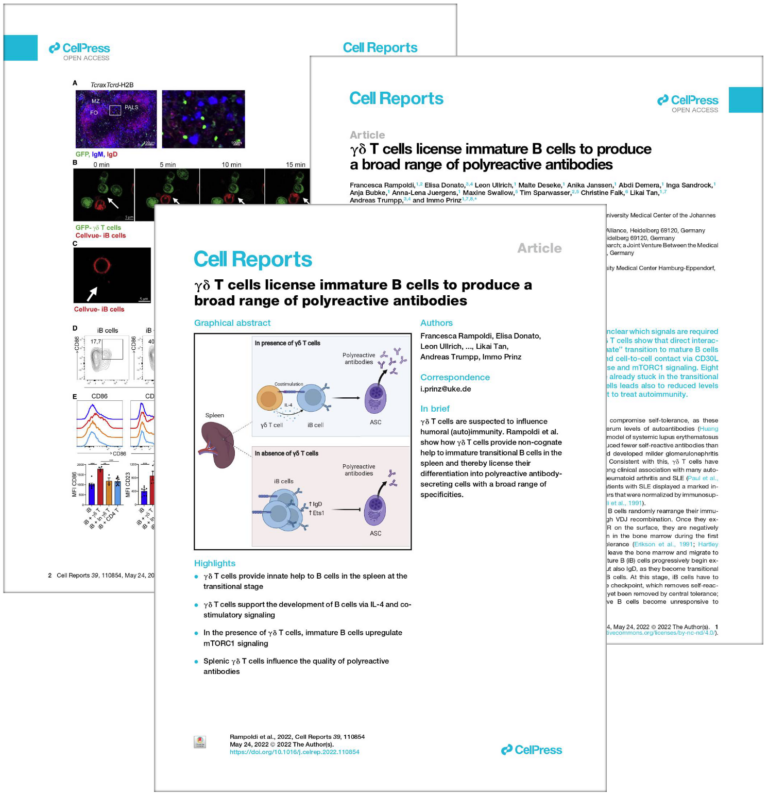 δ T cells license immature B cells to produce a broad range of polyreactive antibodies
Immature autoreactive B cells are present in all healthy individuals, but it is unclear which signals are required for their maturation into antibody-producing cells. Inducible depletion of γδ T cells show that direct interaction between γδ T cells and immature B cells in the spleen support an "innate" transition to mature B cells with a broad range of antigen specificities. IL-4 production of γδ T cells and cell-to-cell contact via CD30L support B cell maturation and induce genes of the unfolded protein response and mTORC1 signaling. Eight days after in vivo depletion of γδ T cells, increased numbers of B cells are already stuck in the transitional phase and express increased levels of IgD and CD21. Absence of γδ T cells leads also to reduced levels of serum anti-nuclear autoantibodies, making γδ T cells an attractive target to treat autoimmunity.
Cell Rep. 2022 May 24; 39(8):110854.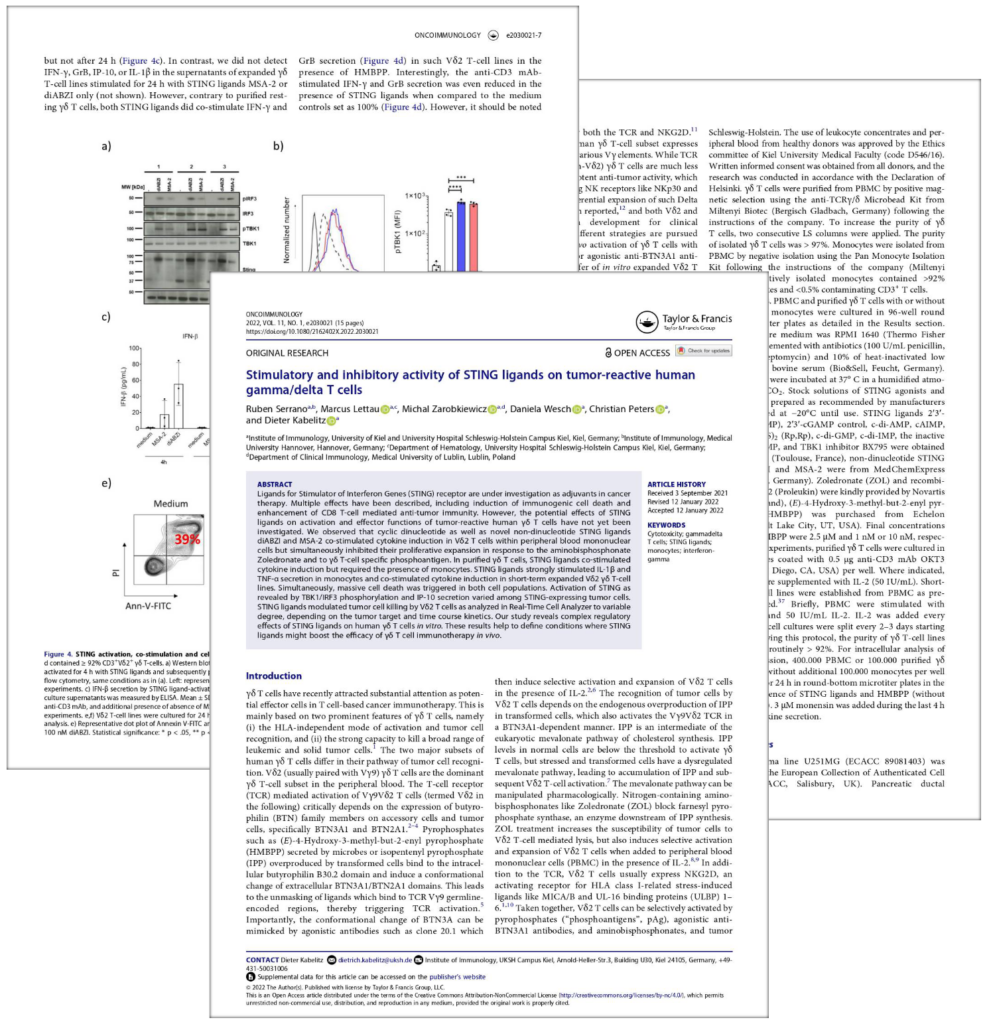 Stimulatory and inhibitory activity of STING ligands on tumor-reactive human gamma/delta T cells
Ligands for Stimulator of Interferon Genes (STING) receptor are under investigation as adjuvants in cancer therapy. Multiple effects have been described, including induction of immunogenic cell death and enhancement of CD8 T-cell mediated anti-tumor immunity. However, the potential effects of STING ligands on activation and effector functions of tumor-reactive human γδ T cells have not yet been investigated. We observed that cyclic dinucleotide as well as novel non-dinucleotide STING ligands diABZI and MSA-2 co-stimulated cytokine induction in Vδ2 T cells within peripheral blood mononuclear cells but simultaneously inhibited their proliferative expansion in response to the aminobisphosphonate Zoledronate and to γδ T-cell specific phosphoantigen. Our study reveals complex regulatory effects of STING ligands on human γδ T cells in vitro. These results help to define conditions where STING ligands might boost the efficacy of γδ T cell immunotherapy in vivo.
Oncoimmunology. 2022 Feb 1;11(1):2030021.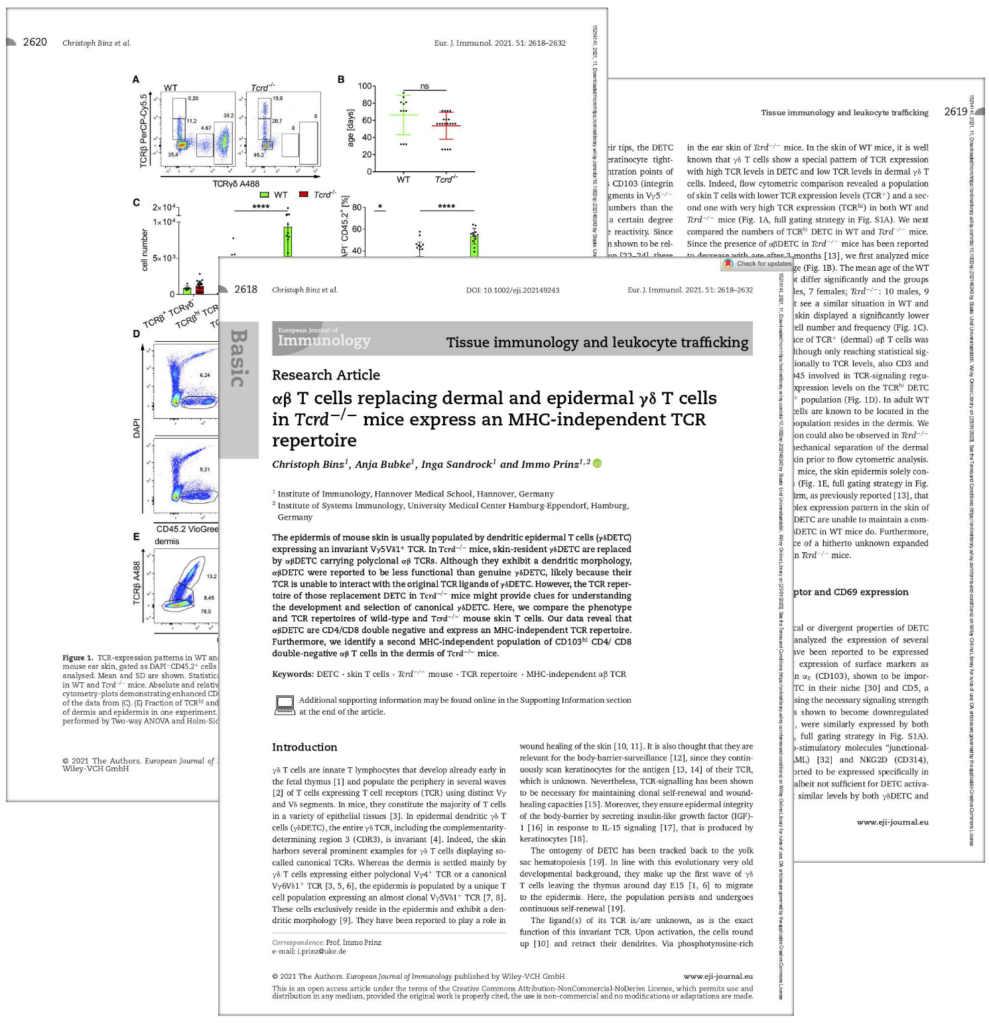 αβ T cells replacing dermal and epidermal γδ T cells in Tcrd-/- mice express an MHC-independent TCR repertoire
The epidermis of mouse skin is usually populated by dendritic epidermal T cells (γδDETC) expressing an invariant Vγ5Vδ1+ TCR. In Tcrd-/- mice, skin-resident γδDETC are replaced by αβDETC carrying polyclonal αβ TCRs. Although they exhibit a dendritic morphology, αβDETC were reported to be less functional than genuine γδDETC, likely because their TCR is unable to interact with the original TCR ligands of γδDETC. However, the TCR repertoire of those replacement DETC in Tcrd-/- mice might provide clues for understanding the development and selection of canonical γδDETC. Here, we compare the phenotype and TCR repertoires of wild-type and Tcrd-/- mouse skin T cells. Our data reveal that αβDETC are CD4/CD8 double negative and express an MHC-independent TCR repertoire. Furthermore, we identify a second MHC-independent population of CD103hi CD4/ CD8 double-negative αβ T cells in the dermis of Tcrd-/- mice.
Eur J Immunol. 2021 Nov;51(11):2618-2632.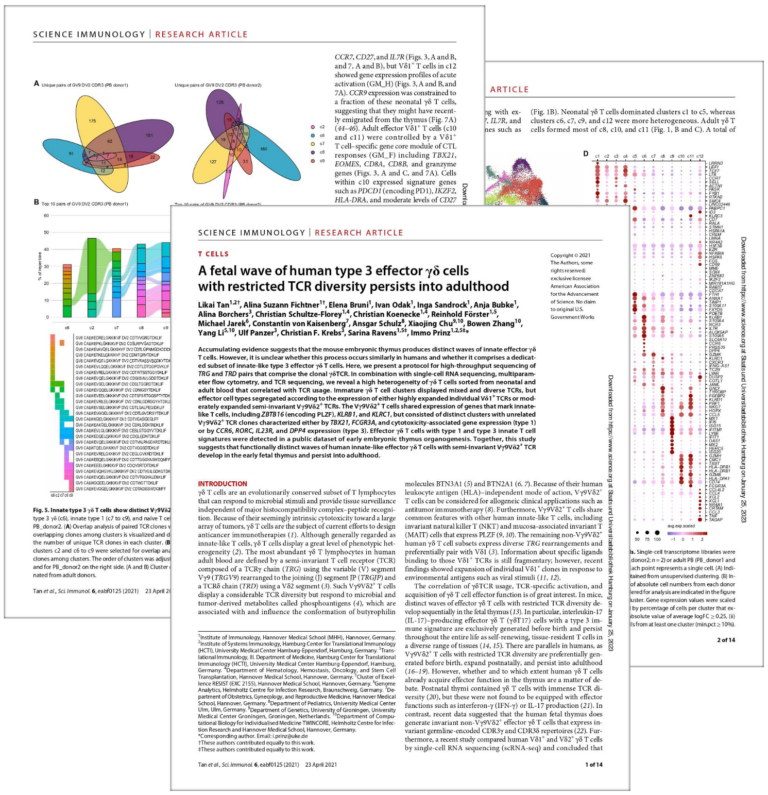 A fetal wave of human type 3 effector γδ cells with restricted TCR diversity persists into adulthood
Accumulating evidence suggests that the mouse embryonic thymus produces distinct waves of innate effector γδ T cells. However, it is unclear whether this process occurs similarly in humans and whether it comprises a dedicated subset of innate-like type 3 effector γδ T cells. Here, we present a protocol for high-throughput sequencing of TRG and TRD pairs that comprise the clonal γδTCR. In combination with single-cell RNA sequencing, multiparameter flow cytometry, and TCR sequencing, we reveal a high heterogeneity of γδ T cells sorted from neonatal and adult blood that correlated with TCR usage. Immature γδ T cell clusters displayed mixed and diverse TCRs, but effector cell types segregated according to the expression of either highly expanded individual Vδ1+ TCRs or moderately expanded semi-invariant Vγ9Vδ2+ TCRs.
Sci Immunol. 2021 Apr 23;6:eabf0125.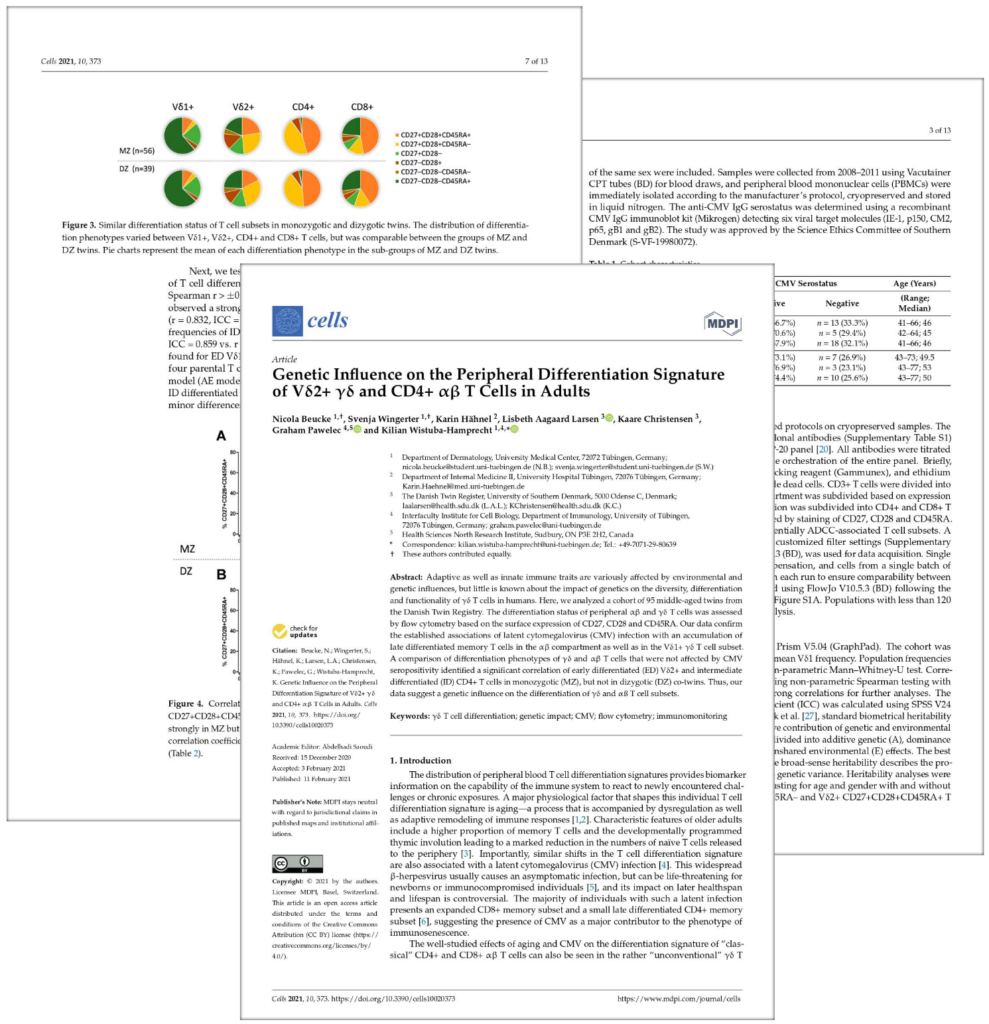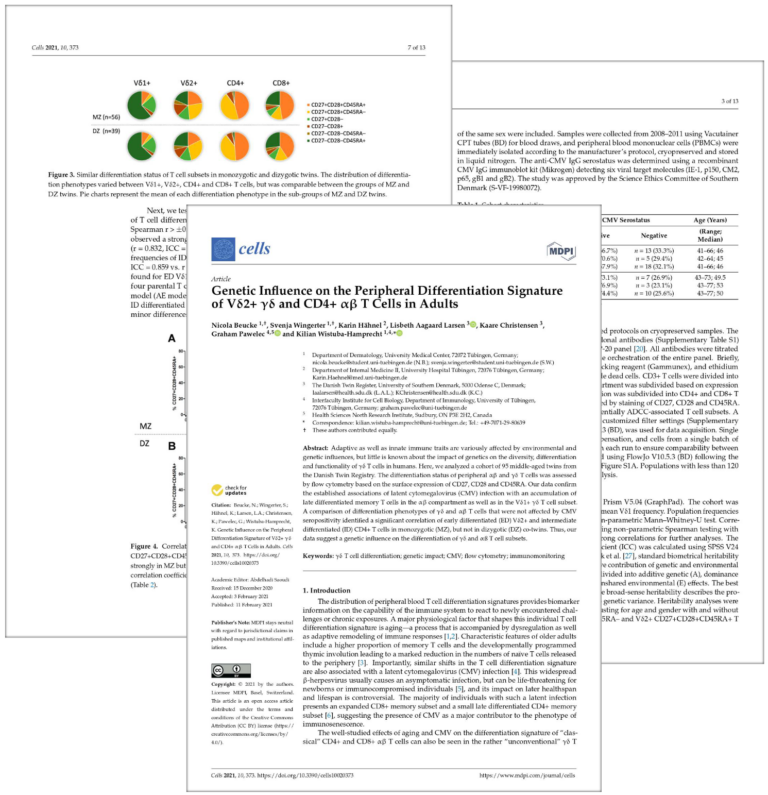 Genetic Influence on the Peripheral Differentiation Signature of Vδ2+ γδ and CD4+ αβ T Cells in Adults
Adaptive as well as innate immune traits are variously affected by environmental and genetic influences, but little is known about the impact of genetics on the diversity, differentiation and functionality of γδ T cells in humans. Here, we analyzed a cohort of 95 middle-aged twins from the Danish Twin Registry. The differentiation status of peripheral αβ and γδ T cells was assessed by flow cytometry based on the surface expression of CD27, CD28 and CD45RA. Our data confirm the established associations of latent cytomegalovirus (CMV) infection with an accumulation of late differentiated memory T cells in the αβ compartment as well as in the Vδ1+ γδ T cell subset. A comparison of differentiation phenotypes of γδ and αβ T cells that were not affected by CMV seropositivity identified a significant correlation of early differentiated (ED) Vδ2+ and intermediate differentiated (ID) CD4+ T cells in monozygotic (MZ), but not in dizygotic (DZ) co-twins. Thus, our data suggest a genetic influence on the differentiation of γδ and αß T cell subsets.
Cells. 2021 Feb 11;10(2):373.
About us
Current research on γδ T cells and their γδ TCR focusses on the identification of potential ligands for the γδ TCR, the role of γδ T cells in the control of infectious diseases, and the potential of γδ T cells for novel therapies against tumors. Thus, γδ T cell research is a hot topic with a lot of potential for translation into clinical application. At FOR2799 is a DFG-funded Research Unit, in which several German research groups join forces to investigate how "The γδ T Cell Receptor Receives and Translates Signals"